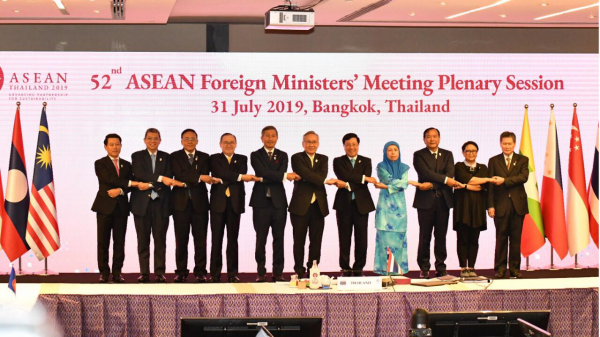 (KPL) The 52nd ASEAN Foreign Ministers' (AMM), Post Ministerial Conferences (PMCs) and related meetings are being held (Jul 30 – Aug 3) in Bangkok.  
Chaired by Thai Minister of Foreign Affairs Don Pramudwinai, the meeting acknowledged the progress made in ASEAN based on Thailand's Chairmanship theme of "Advancing Partnership for Sustainability" which gives high importance to promoting sustainability in all dimensions and efforts to achieve a people-centred ASEAN Community.
The ministers discussed the progress of implementation of initiatives agreed at the 34th ASEAN Summit, such as the "ASEAN Leaders' Vision Statement on Partnership for Sustainability" and the "ASEAN Outlook on the Indo-Pacific."
They also discussed the challenges due to the 4th Industrial Revolution and the need to advance ASEAN in the areas of digital economy, infrastructure development as well as projects to narrow the development gaps within ASEAN.
They noted the ongoing situation on global trade and implications from disruptive technology, which prompt the need to increase the use of innovation, enhance regional economic integration, and strengthen cyber security.
The ministers noted the increasing interest by external partners to intensify engagement with ASEAN and exchanged views on regional and international issues, such as efforts made towards the conclusion of the Regional Comprehensive Economic Partnership (RCEP) this year.
They also noted the complementarities between the ASEAN Community Vision 2025 and the UN 2030 Agenda for Sustainable Development, and agreed to have a Joint ASEAN Statement at the SDG Summit and the Climate Action Summit later in September this year.
The AMM was first held in 1967 and is currently held back-to-back with Post Ministerial Conferences – PMCs – with dialogue partners and external parties.
The AMM/PMC is ASEAN's largest event as having the highest number of meetings and participating countries.  
The 52nd AMM/PMC and Related Meetings are being attended by Foreign Ministers and representatives from more than 30 countries which includes Dialogue Partners, Sectoral Dialogue Partners, Development Partners and Guest of the Chair. ASEAN and its Dialogue Partners also discussed preparations for the 35th ASEAN Summit, which will be held later in November this year.
KPL