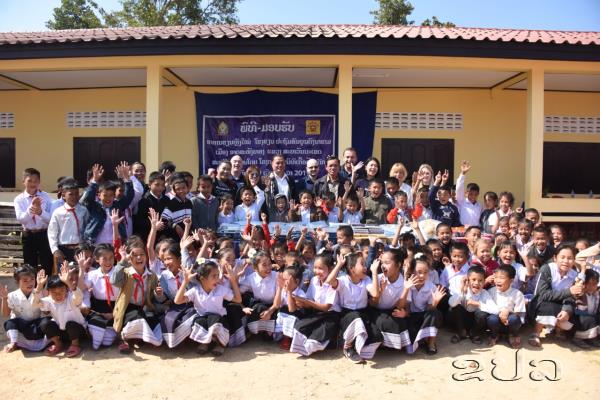 By Singkham
(KPL) Acronis Cyber Foundation in collaboration with Child's Dream Foundation has built a primary school for Dongnakham village, Adsaphangthong district, Savannakhet province, with a joint funding of 350 million kip.
A handover ceremony of the newly built Dongnakham Primary School took place at the village on Dec 10 between Mr Hannes Migga-Vierke, Vice-President for Global Cloud and Field Marketing, Acronis and Mr Bounmee Lattanavong, Vice Head of Administration Section, Savannakhet Provincial Education and Sports Department.
Ms Christin Reinhardt-Riedinger, Director for Finance and Operations of Child's Dream Foundations, representatives from donors and relevant sectors, local authorities, teachers, students and residents of Dongnakham witnessed the ceremony.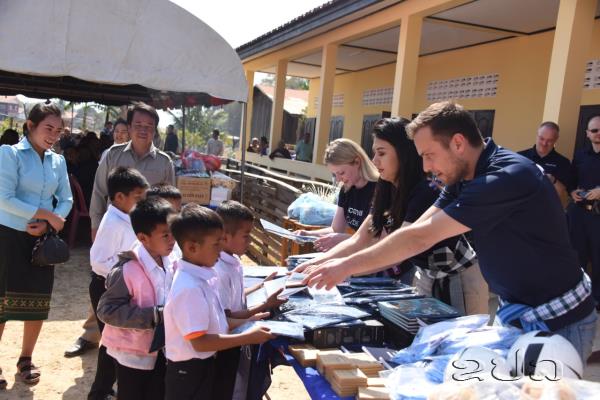 "We at Acronis Foundation believe that education is the highest value and try to do everything possible to spread knowledge around the world. Every evil on earth comes from the lack of knowledge. That is why we are so honoured for having taken part in the school construction in Dongnakham village. We are very glad to support you in your desire to achieve better education and hope you will do your best out of it," said Mr Hannes Migga-Vierke.  
"We should keep in mind that our children are our future, and our future must be bright because of the quality education that we can provide. He hope that the new school will make teachers and students live a bit better, have a very enjoyable and fruitful school life, and take care of it so that it can be used for a long time for optimal benefit," he said.
Mr Bounmee Lattanavong, Vice Head, Administration Section, Savannakhet Provincial Department of Education and Sports noted that the valued support from both foundations constitutes a significant contribution to and remarkable for educational development and human resource development in Savannakhet province, especially in Dongnakham village and nearby communities.   
"We are very honoured and proud to receive such a generous support from Acronis Cyber Foundation and Child's Dream Foundation. This is an invaluable gift for all of us. The school will not only provide convenience for teachers on teaching, but also encourage students to come to school and pay more attention to their study," said Mr. Outhone Sayasith, Director, Dongakham Primary School.  
The construction of Dongnakham Primary School has cost almost 400 million kip, including 350 million kip donated by Acronis Cyber Foundation and Child's Dream Foundation, and 50 million kip contributed by local beneficiaries.
KPL