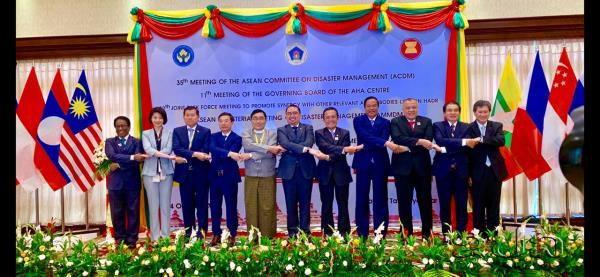 (KPL/ASEAN Secretariat) The Association of Southeast Asian Nations (ASEAN) Ministers and officials celebrated the annual 'ASEAN Day for Disaster Management' with the theme 'Bridging Disaster Recovery to Resilience' on Oct 4 in Nay Pyi Taw, Myanmar.
"ASEAN exerted solidarity through our regional mechanisms, such as the ASEAN Agreement on Disaster Management and Emergency Response (AADMER), ASEAN Coordinating Centre for Humanitarian Assistance, and ASEAN Emergency Response and Assessment Teams. Yet much remains to be done to strengthen our resilience," said Secretary-General of ASEAN Dato Lim Jock Hoi.
ASEAN is among the most disaster-prone region in the world. In 2018, ASEAN particularly faced a difficult year as it recorded over 400 disaster occurrences, namely the earthquakes in Indonesia, flash floods in Lao PDR, dump fire in Myanmar, and typhoon in the Philippines. The ASEAN Day for Disaster Management is celebrated to raise regional awareness on the importance of building a more resilient ASEAN Community.
The event was officiated by Vice President of Myanmar Henry van Thio and held in conjunction with the 7th ASEAN Ministerial Meeting on Disaster Management and the 8th Meeting of the Conference of the Parties to the ASEAN Agreement on Disaster Management and Emergency Response.
Under the leadership of Dato Lim Jock Hoi as ASEAN Humanitarian Assistance Coordinator, ASEAN is committed to assist its Member States in mitigating and reducing impacts of disasters and bring together aid and expertise from the international community to the region.
KPL