(KPL) Ferenc Lévai kneels down on the grass to put his hand into the water. "It's a hot day today, a little too hot for tilapia breeding, but always better than cold," Ferenc smirks and points to the black nets stretched across the length of one of the fish ponds on his farm.
These nets provide shade which lowers the water temperature. Paddlewheel aerators that look like small electric paddleboats, switched on intermittently, enrich the water with oxygen to create an environment conducive to fish mating.
"We are the largest fish breeding farm in Laos," Ferenc says. "Apart from ADC, there are only a few small-scale hatcheries operating which are insufficient to satisfy local demand. Thus, many fish farmers import fingerlings (young fish) from Thailand. I sell at competitive prices, since I don't have to factor in the import costs. Also, we have better genetic stocks at my farm than the ones usually available. My goal is to create an entire Laos-based value chain, where fish is bred, fed and processed locally, instead of being dependent on imports. Currently I am still using fish feeds imported from Thailand and Vietnam. However, thanks to the long-term Lao-Hungarian cooperation, there's a feedmill in Nong Teng which will soon be able to provide locally produced, high quality fish feed."
ADC Aquatic Development Company was established in 2015 as a Lao-Hungarian joint venture.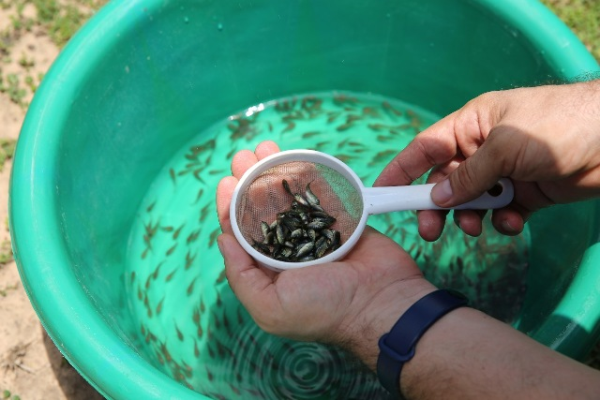 The company produces fingerlings at its Nam Houm fish seed production centre, 30 km north of Vientiane, to supply the local fish farmers. As an offspring of a Hungarian fish-empire, with his father touted as "The Nation's Fisherman", Ferenc is well-versed in aquatic matters. His sister owns a specialized fish restaurant in Budapest and his family business back home is known nationwide as a multifunctional fish farm, complete with breeding farm and research facility, hotel, wellness centre, restaurant and museum.
Ferenc is a friend of fish, in all its life stages – and its afterlife. He jealously guards his fish eggs, instructs and trains his Lao staff with zeal and passion on their feeding and care, and shuns no hardship to ensure his tilapia become healthy and strong adolescents before releasing them into the ponds of fish farmers to bring them up into full adulthood. He loves a fish on his plate, too, his eyes glistening when he starts to discuss how best to prepare any given fish species.
This fervor is the fuel of grand plans. Ferenc gets excited about building something bigger than "just" a fish hatchery. "I'd like our farm to become a regional aquaculture centre, which is much more than just a fish breeding farm. We are already establishing a training branch, getting involved in research and development, and experimenting with different fish species. In the future I plan to get involved in market size fish production, fish processing as well as selling fish feed and aquaculture equipment."
Becoming involved seems to come so naturally to Ferenc that it's like a second skin. That's why he is an eager member of the Scaling Up Nutrition (SUN) Business Network. Supported by the National Nutrition Committee Secretariat, the World Food Programme and the European Union, this network unites business owners and managers with an interest to produce healthy, local food at affordable prices and advocate for good nutrition.
"In order to reach my goals and grow my business, it is essential for me to expand my networks, explore synergies and learn from others. It's very useful for me to be part of the SUN Business Network. I have learned new things about gaps in food production in Laos that gave me new ideas about what I could be doing in my own work. Also, I love Laos and its people, and I want the children in remote villages to grow up strong and healthy – so I would like to do all I can to help with that, through my own business. It is my dream to plant my fingerlings into as many fish ponds around Laos as possible, be it in Phongsaly or Attapeu. I would like to show the locals how easily they can raise their own fish. And I'd like the children to know why eating fish is good for them, and what it does to their bodies," Ferenc says.
Fish is very healthy and highly nutritious, and much loved by the people of the Lao PDR, where its consumption is more than ten times higher than in Ferenc's home country, Hungary. But nutrition awareness is only nascent in Laos. Businesses have a crucial role, since they can help spread awareness in order to fight malnutrition, but also raise the demand for and increase the availability of healthy food products. This is not only important for remote, rural communities where children grow up with poor diets and cannot develop into their full potential, but also more increasingly in urban centres, where fast food and excessive sugar consumption have started to create health problems.
"Give me a fish and I eat for a day. Teach me to fish and I eat for a lifetime" – Ferenc has clearly embraced this proverb in his own life. Now, he is impatient to help others do the same.
KPL