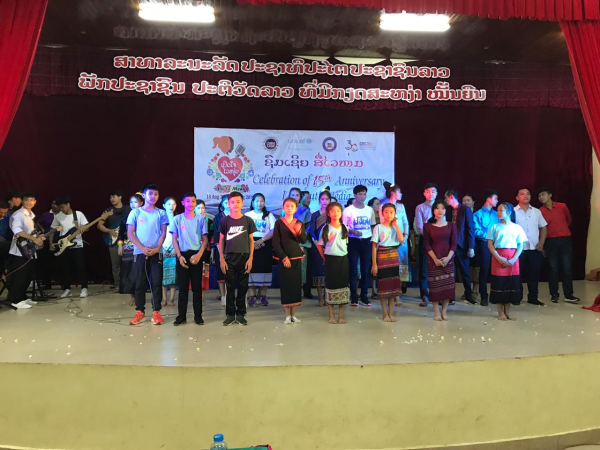 (KPL) To mark the 15th Anniversary of Lao Youth Media (2004 – 2019), youth media teams from Phongsaly, Bokeo, Huaphan, Xieng Khuang, Luang Namtha, Oudomxay, Sayaboury, Luang Prabang and Vientiane provinces have met in Oudoxmay to discuss progress, challenges, and ways forwards of youth media activities in the Lao PDR.
The youth media teams have also organized a mini concert promoting children rights and the success of youth participation in the Lao PDR. Participants performed cultural shows, dancing, singing CRC songs, and performed drama on rights to education and health.
As part of the celebration and promotion of CRC@30, a youth media training on the promotion of child rights through radio and social media was organized for youth media teams from nine northern provinces in Oudomxay from 29 – 31 July 2019. Fifty participants attended the three-day training.
During the training, participants were briefing about the Convention on the Rights of the Child (CRC), the four principals of CRC and the four rights such as Right to Survival, Right to Development, Right to Protection and Right to Participation. Participants were also briefed on the celebration of CRC@30 and the road map of the celebration in the Lao PDR.
To take part in the promotion of Breastfeeding week (1st – 7th August 2019), participants were also briefed on 10 key messages of nutrition for their radio production.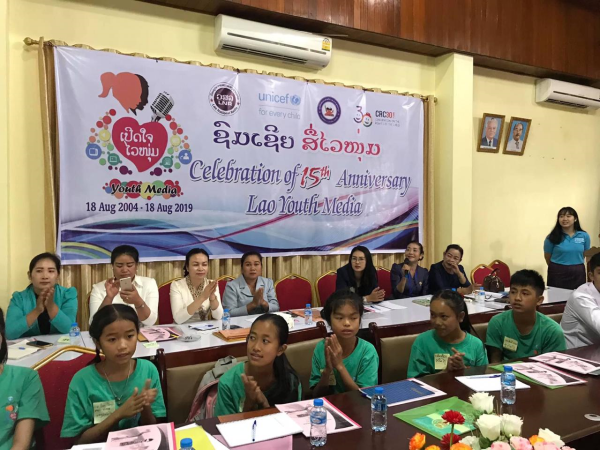 To improve youth media activities, participants shared experiences regarding provincial youth media activities and review digital channels for Lao Youth Media. Youth media teams were also trained on additional skills, so they can continue training new youth members and sustain youth radio in their provinces.
Participants also had a chance to go to rural areas to interview village authorities, parents, mothers and children about health education and protection from violence. As a result four radio, TV and news for social media were produced and will be broadcast and posted in social media.
In his speech during the opening ceremony, Mr Phonsavanh Phanthavichith, Director of Information, Culture and Tourism of Oudomxay province said, "Youth radio is an important project that promotes youth participation and actively provides needed and useful information and knowledge to young audiences." He is proud that youth radio started 15 years ago in Oudomxay province. "Most young people who were involved in this project have become professional radio and television announcers and wherever they study or work, they have done very good job," said Mr Phonsavanh.
Addressing to the trainees, Mr Sangkhan Choumkhamphan, Deputy Director General of the Lao National Radio emphasized the importance of youth media activities as crucial for youth participation. "Launched in 2004, the Lao youth radio initiative allows Lao children and youth a voice, and the chance to help bringing positive changes in rural communities," said Mr Sangkhan.
He thanks UNICEF for supporting the capacity building of young volunteers and radio staff in media skills, particularly radio and social media. He also urged provincial youth radio and youth media teams to continue to sustain youth media activities in their province.
"Thanks to youth media, young people have started to find a role for themselves in their communities which is important because young people make up such large proportion of the population in Laos," UNICEF Communication Specialist, Mr Tabongphet Phouthavong said.
He also pointed out that the advantages of radio and social media is not only they are low cost but they are a more effective method in disseminating information to people.
Ms Pany Virachit was trained by the Youth Media team when she was 16 years old and is now 30.  "I gained a lot from youth media project, I learned how to interview, how to write scripts for radio, digital editing, as well as having the chance to become a presenter on air. Youth media gives us life skills and teaches us how to mobilize our community. The Youth Media experience also helped me a lot in my studies. I am now working as fulltime radio presenter at Luang Prabang radio," said Ms Virachit.
Mr Thongkhan was one of the first young people to receive media training in Oudomxay province when he was 17 years old. Now he is 35 years old and works for the Information Culture and Tourism Department of Oudomxay province. "Youth media takes us into rural communities to understand real life and some of the challenges people face in remote communities. I had the chance to use my ability to help people, and at the same time get experiences to help develop my career," says Mr Thongkhan.
A similar training will be organized for southern provincial youth media teams in Borikhamxay province in the second week of August 2018.
KPL