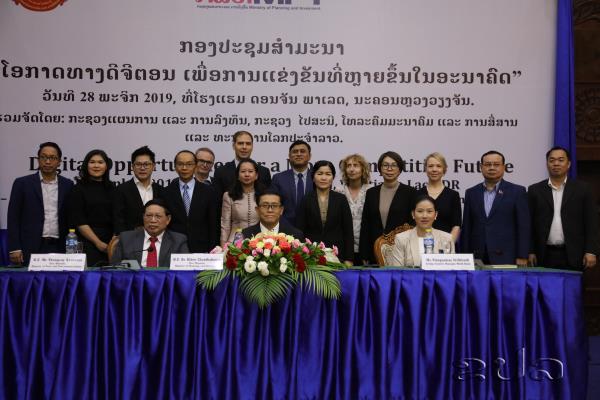 (KPL) The Ministry of Planning and Investment and the Ministry of Post and Telecommunications in collaboration with the World Bank held in Vientiane a workshop on 'Digital Opportunities for a More Competitive Future' on Nov 28.
The workshop – attended by government officials, private sector representatives and international experts – discussed the digital economy, its potential to affect economic growth and ways to ensure that more people can benefit from digital opportunities throughout the country.
The workshop focused on the need to accelerate digital transformation in the Lao PDR, allowing the country to take advantage of the opportunities that digital connectivity can bring.
"Digital technology is a key driver of economic development and innovation in many countries around the world. In the Lao PDR, there is more to be done to improve the accessibility, quality and affordability of internet services. By embracing digital technology, everybody benefits: private citizens, businesses, and also the public administration. We really need to maximize the opportunities that arise from adopting digital technology in our country to make the Lao PDR more competitive," said Mr Kikeo Chanthaboury, Vice Minister of Planning and Investment.
Participants debated key digital challenges including how to increase the speed of and access to broadband internet. Participants also discussed ways to make the internet affordable and ensure that access to broadband can reach more beneficiaries, including through private-public partnerships.
The importance of strengthening the regulatory environment on digital payments, electronic signatures, data security and consumer protection – to build trust in online transactions – was also highlighted.
Mr Thongsay Xanexaya, Vice Minister of Post and Telecommunications said: "In order to allow digital sector to be more competitive, we first need to provide supportive environment to ensure various kinds of services with quality and appropriate prices. The ministry needs to work hard to unlock all potentials for our digital improvements."
"At the moment, 90 per cent of Lao people are digitally connected through their mobile phones. However, both the private sector and the government of the Lao PDR could improve their effectiveness in delivering services by adopting digital solutions. We are delighted to support the authorities in the Lao PDR to find solutions on how to improve the use of digital technologies – which are also key to promote a more inclusive pattern of economic growth and to improve the quality of life of all citizens," said Ms Viengsamay Srithirath, Acting World Bank Manager.
Last year, the World Bank conducted a rapid assessment on the Lao PDR Digital Development. The resulting report provided a snapshot of digital development in the country and highlighted areas for improvement, particularly on connectivity and regulation. It also described the overall level if digitization of the public administration in the Lao PDR, based on international benchmarks.
KPL