(KPL) The report "Multiple Overlapping Deprivation Analysis on Stunting among children under 5 years, Lao PDR" released on Jun 20 indicates that at both national and provincial levels, every stunted child in the Lao PDR is also deprived in three or more areas of well-being, emphasizing the high correlation between stunting and multidimensional poverty in the country and suggesting that reducing stunting can be only achieved with the reduction of multidimensional poverty.
The report shows that, among the 33 per cent stunted children in the country, 32 per cent are simultaneously stunted and deprived from access to good nutrition, health, housing, water and sanitation, play and stimulation and many others.
A further three-way overlap deprivation analysis of nutrition, sanitation and housing, shows that stunted children are twice more likely to be deprived in all three dimensions (31.8 per cent) compared to non-stunted children (17.1 %).
The intensity of deprivation among stunted children is affected by where the child stays (rural or urban), region (north, central or south), educational status of mother, head of household (male or female) and other socio-economic factors.
"The findings of this report and its recommendations are extremely important for the government of the Lao PDR as they help understand better the consequences of stunting and address them in a more effective and efficient way. If we are to reduce multidimensional poverty, a combined multisectoral approach to programming backed by good data will be most effective in addressing the multiple overlapping deprivations facing children. We need to join hands for an effective joint planning, budgeting and continuous monitoring of results at all levels," Dr Kikeo Chantaboury, Vice Minister-MPI said, while adding that the National Information Platforms for Nutrition (NIPN) initiative is already playing a key role in making better use of evidence and data to design and implement nutrition related policies and programmes.
Although the Lao PDR has made significant gains in stunting reduction from 44 per cent in 2011 to 33 per cent in 2017, according to the Lao-Social Indicator Survey (LSIS-II), 11 out of 18 provinces have critical levels of stunting above the WHO recommended threshold of 30 per cent, and there exists wide disparity in prevalence of stunting among people living in different geographical areas, by wealth quintile, and ethnicity. Stunted children have reduced capacity to learn in school, grow their fullest potential and achieve maximum economic benefits in adult life.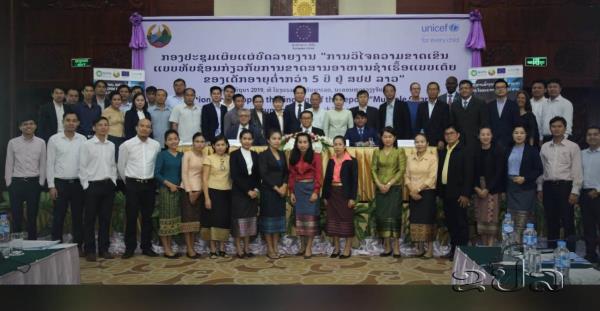 "Childhood stunting has been linked to lower levels of educational achievement and lower productivity in later life. This is worrisome if the Lao PDR is to achieve the Sustainable Development Goals by 2030. Closing the resource gaps between stunted and non-stunted children is, thus, extremely important and requires Government and development partners to consider reviewing existing nutrition policies and strategies to ensure that it addresses the key health and nutrition deprivations facing children in Laos," stated Leo Faber, European Union Ambassador.
The report also highlights that the unfavorable combination of insufficiently nutrition diets, non-exclusive breastfeeding of infants, and high burden of exposure to disease and infections due to poor sanitation and drinking water has dire consequences on the cognitive and physical development of children. It is, therefore, recommended a continuous prioritization of nutrition with complementary public-sector financing and policies which are essential for the implementation of evidence based and high impact nutrition interventions across the country.
"To reduce multidimensional poverty and reduce stunting levels, investments in children and young people are vital. Investment in Human Capital or cognitive capital means investment in forward looking policies, that not only realize human rights, but also eliminate inequality, deprivation and economic stagnation. Prioritizing the education, protection, health, nutrition and well-being of children constitutes the best and most robust investment we can make across the first two decades of life to fulfil the promise of 2030 Agenda," concluded Irfan Akhtar, OIC Representative, UNICEF.
The Multiple Overlapping Deprivation Analysis on Stunting in the Lao PDR report has been published under the umbrella of the National Information Platform for Nutrition (NIPN), an international initiative of the European Commission with support from the United Kingdom Department for International Development and the Bill and Melinda Gates Foundation. This initiative is an integral part of the Government's nutrition programme, which is supported jointly by EU Delegation and UNICEF in the context of their Partnership for Improved Nutrition in the Lao PDR.
KPL