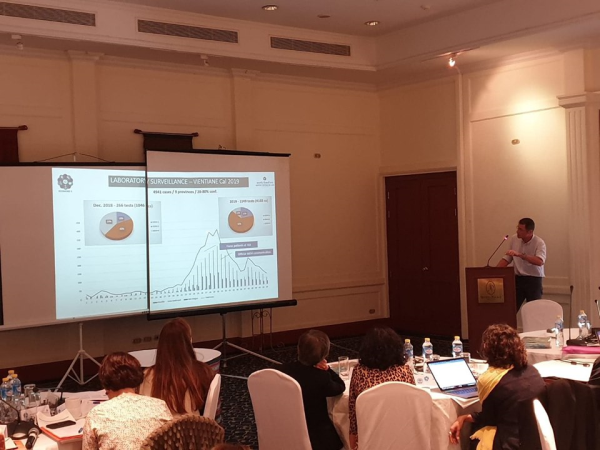 (KPL) On the 27th and 28th of November 2019, the third steering committee of ECOMORE 2 project, funded by the French Development Agency (AFD), took place at Settha Palace, Vientiane.
To fight dengue fever and leptospirosis – two infectious diseases whose emergence in Southeast Asia is correlated with economic development and its impacts on ecosystems – the Institut Pasteur, with the support of the French Development Agency (AFD), is implementing the ECOMORE 2  project in 5 countries  namely Lao PDR, Cambodia, Myanmar, the Philippines and Vietnam.
This project (ECOnomic development, ecosystem MOdifications, and emerging infectious diseases Risk Evaluation) aims to understand the changes responsible for the emergence of infectious diseases, but also to measure the impact of improving surveillance systems and strengthening national and regional cooperation to address the challenge of these diseases.
Five study topics were selected by national partners, with regard to a major public health issue in each country: dengue fever in Cambodia, Laos and the Philippines; leptospirosis in Burma and Vietnam.
The second phase of the project emphasizes the analysis of the impact of climate change on the emergence of diseases in the study area. The greatest risks are borne by waterborne and mosquito-borne diseases, the emergence of which depends largely on meteorology and land use.
In Laos, the general objective of ECOMORE 2 project is to develop tools for risk assessment and control of viral diseases transmitted by Aedes mosquitos in urban areas.
These results are used to underpin recommendations to minimize public health impacts due to urban development and changes in lifestyle.
The Lao component of ECOMORE 2 also aims to determine the number of people with dengue in the target population, to strengthen monitoring of dengue by integrating geolocation and dynamic mapping (including environmental, climatic, entomological and socioeconomic data), and to model data to result in identifying major risks and improve outbreak early warning in case of epidemic.
Five institutes responsible for implementing the ECOMORE 2 project, which is coordinated by Institut Pasteur-Paris and financed by the French Development Agency (AFD), include the Institut Pasteur du Cambodge in Cambodia, the Institut Pasteur du Laos in the Lao PDR, the National Health  Laboratory –NHL  in  Myanmar,  the  Research  Institute  of  Tropical  Medicine  in  the Philippines, the National Institute of Hygiene and Epidemiology-NIHE in Vietnam.
The  Agence Française  de  Développement  (AFD)  is  funding  the  ECOMORE  2 project and this year AFD has selected this project to be presented in its "TOP STORIES".   
An exhibition presenting the project's implementation in the 5 partner countries will be presented for the first time on Nov 27 in the garden of the French Embassy in Vientiane, in the context of the 3rd Steering Committee.
This exhibition will then be officially presented to the public in January at the Institut Francais du Laos, before continuing its journey to Myanmar, Cambodia and Vietnam.
KPL