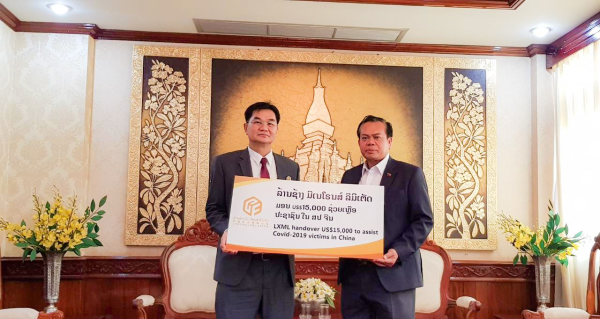 (KPL) Lane Xang Minerals Limited (LXML) represented by LXML Government Relations Mr Chanthone Naovalath handed over a financial contribution of US$15,000 to the Ministry of Energy and Mines represented by its permanent secretary Phetsavanh Lattanavongxay in Vientiane on Feb 14, 2020. 
This contribution will be pooled into the fund jointly raised by the Laos-China Friendship Association and the Vientiane Administration Office to assist victims of the new coronavirus (Covid-19) in China.
Since the outbreak of the coronavirus in Wuhan in December 2019, the disease has quickly spread across China and over 20 countries across the globe. On Jan 30, the World Health Organization declared the coronavirus outbreak a global health emergency calling for a more coordinated international response to the outbreak.
"China and Laos are neighbours and the friendship between our two peoples is extensive, just as the Mekong River is extensive and links us together," said Mr Saman Aneka, Managing Director of LXML. "We hope our contribution in some ways will help our neighbours in China."
KPL