Lao Front's Vice President Presented Japan's FM's Certificate of Commendation
(KPL) Vice President of the Lao Front for National Development Som Ock Kingsada has been presented Japan's Foreign Minister's Certificate of Commendation by Ambassador of Japan to the Lao PDR Takewaka Keizo.
The award ceremony was held at the Japanese Ambassador's residence in Vientiane Capital. During the ceremony Ambassador Takewaka congratulated Mr Som Ock and praised his achievements in promoting mutual understanding between Japan and the Lao PDR.
Mr. Som Ock Kingsada was born in Luang Namtha Province in 1949.
Earning his doctorate in Germany before returning to the Lao PDR, he made significant contributions to the field of healthcare.
His many achievements have led him to serve in numerous high- level positions, such as Director General of Setthathirath Hospital from 2002 to 2009, President of the University of Health Sciences 2009-2011, Vice Minister of Health 2011-2016, and most notably Vice President of the Lao Front for National Development since 2016.
While serving as the Director General of Setthathirath Hospital, which was built with Japanese grant aid in 2000, Mr. Som Ock Kingsada cooperated greatly with Japan in the area of healthcare services, as well as supporting Japan in many tasks. In addition to this, he contributed greatly to human resource development by arranging for skilled Lao health workers to undergo training in Japan, and graciously received Japanese experts visiting Laos in cooperation with Ryukyu University of Okinawa Prefecture.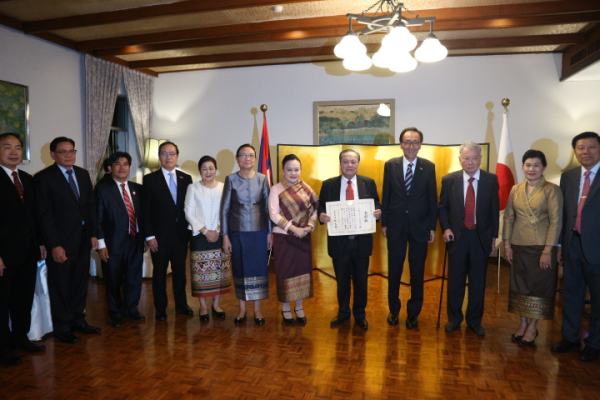 Minister of Education and Sports and President of Laos-Japan Friendship Association Sengdeuane Lachanthaboun, President of Laos-Japan Parliamentary Association Khenthong Nuanthasing, Deputy Minister of Health Phouthone Muongpak, high-ranking officials from related ministries and organizations, family and friends of Mr. Som Ock Kingsada, representatives from the Japanese community in the Lao PDR and media witnessed the ceremony.
KPL