Laos Proposes ASEAN Plus Three Continue To Support Building Institutional Capacity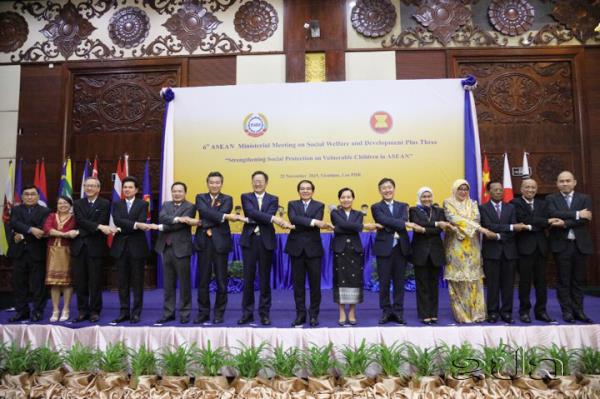 (KPL) Laos has proposed ASEAN Plus Three continue providing necessary supports in building the capacity of institutions in charge of promotion and protection of children, the elderly and persons with disabilities.
Deputy Minister of Labour and Social Welfare Baykham Khattiya told the 6th ASEAN Ministerial Meeting on Social Welfare and Development Plus Three: Strengthening Social Protection on Vulnerable Children in ASEAN which was held in Vientiane on Nov 22, 2019.
"It is apparent that the Lao PDR is still facing technical and budget constraints. Therefore, I would like to propose the Plus Three Countries continue providing necessary supports to the Lao PDR in building the capacity of the institutions in charge of promoting and protecting children, the elderly and persons with disabilities through supporting the ASEAN or Bilateral Cooperation projects," said Ms Baykham Khattiya.
The Lao PDR has been collaborating with ASEAN Plus Three Countries in implementing the programmes and activities, focusing on the promotion and protection of rights and benefits of women, children, elderly, persons with disabilities by providing appropriate social services.
"Although we have seen some progresses resulting from implementing the said programmes and activities, there are some challenges when compared to the requirement of the National Poverty Eradication Strategy, ASEAN Declarations, Plus Three Countries' programmes and the Sustainable Development Goals (SDG)," said Deputy Minister Baykham.
KPL