(KPK) The Embassy of Malaysia to the Lao PDR and Tourism Malaysia Vientiane will be organising a two-day Malaysia Food and Travel Fair 2019 on 5-6 October 2019 at Vientiane Center.
Mr. Mohd Aini Atan, Ambassador of Malaysia to the Lao PDR informed about the fair during his courtesy call on Mr. Savankhone Razmountry, Deputy Minister of Information, Culture and Tourism in Vientiane on Oct 1.
Malaysian Prime Minister Tun Mahathir Mohamad launched the Visit Malaysia 2020 Campaign logo on 22 July 2019 to promote tourism industry in the country.
The theme of the campaign is Visit Truly Asia Malaysia 2020. It is expected that the Visit Malaysia 2020 campaign will succeed in its target of 30 million international tourist arrivals and RM100 billion tourist receipts.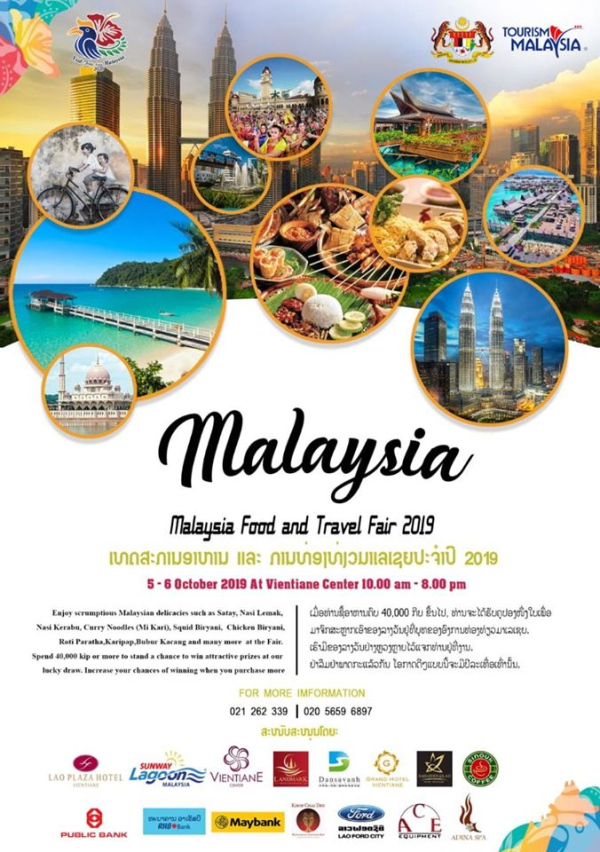 The number of Lao nationals visiting Malaysia in the first seven months has increased by 11.47 per cent compared to the same period last year. Malaysia looks forward to a significant increase by the end of this year and hope it would have a spillover effect for next year's Visit Malaysia 2020 which aims to achieve an estimate of 38,525 Lao tourist arrivals to Malaysia.
Seven out of the 12 booths will be dedicated to the tourism sector such as Lao National Tourism Administration, Tourism Malaysia Vientiane, Analine Travel, Ninhomlao Tour, Mina Travel, Worldwide Journey Services, Aspen Holidays while the rest will be dedicated to Malaysian cuisine such as Four Seasons Restaurant, Flavours and Spices Restaurant, Sihom Kopitiam, Ladies Association of the Embassy or PERWAKILAN, and Lim Seng Huat.
The two-day event will also be showcasing several types of dances by a cultural troupe from Tourism Malaysia, which is specifically flown from Kuala Lumpur. The troupe will be performing four times a day, with four different types of dances, portraying multi-racial backgrounds in Malaysia.
The types of food that will be sold include Nasi Lemak, Roti Canai and Dhal, Curry Mee, Nasi Kerabu, Satay, Karipap, Soto, Rendang with Pulut, Squid Biryani, Chicken Biryani, Bubur Kacang, Nasi Goreng, Mee Goreng and Bihun Sup.
In addition, various activities such as quizzes and games will be also played and opened to all Vientiane Center visitors.
KPL