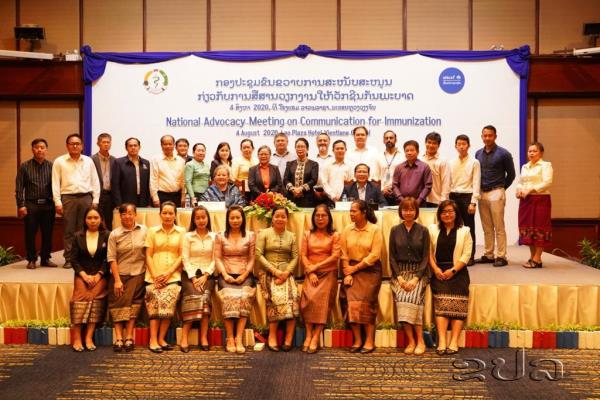 (KPL) A National Advocacy meeting on immunization coverage in the Lao PDR was organized in Vientiane Capital on Aug 4 with the Ministry of Health (MoH) urging key sectors to support the national immunization programme. 
The government of the Lao PDR has set a target to provide full vaccination to 95% of children under the age of one year. 
"To achieve the goals, we have to work with various partners beyond the health sector. The objective of today's meeting is to strengthen our partnership so that vaccines reach every child in the Lao PDR," said Dr. Phonepaseuth Ounaphome, General Director, Department of Hygiene and Health Promotion of MoH.
The meeting was attended by representatives from the Ministry of Information, Culture and Tourism Lao National Front for Development, Lao Women's Union, Lao Youth Union, and development partners working in the area of women and child health. 
Speaking at the meeting, Dr. Phonepaseuth said "Vaccines save lives is a fact. Yet, many children are deprived of it, which heightens the risk of getting illnesses." 
He further said, "COVID-19 has impacted vaccination coverages globally; the pandemic has disrupted routine immunization services as well as other essential health services. Despite this challenge, immunization works need to continue and stepped up."
Low immunization rates compromise progress in all other areas of health for both mothers and children as well as impact the country's overall development.
"When a child is deprived of immunization, their lives and communities are at risk. Vaccines play a key role in ending preventable child deaths," stated Ms. Beate Dastel, UNICEF Representative a.i. "UNICEF has been working alongside the government of the Lao PDR and partners to vaccinate every child in every community, no matter how remote or challenging. We are committed to working with partners to strengthen immunization programmes to identify and prioritize children to ensure no one is left behind," she added. 
The meeting has formed a 'Communication Technical Working Group' to help the national immunization programme. The group comprises of the health sector and non-health sector organizations including development partners. 
Using their existing channels, the group will identify ways to improve communication and coordination across sectors at all levels.
KPL