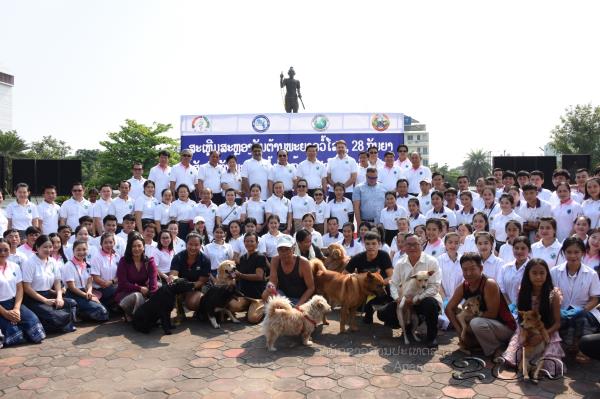 (KPL) More than 1,200 people got their pets vaccinated at a free of charge vaccination event organized at Chao Fa Ngum Park, Vientiane Capital, on Sep 27.
Themed "Rabies: Vaccinate to Eliminate–Focuses on Vaccination, the Foundation of All Rabies Control Efforts", the event organized by the Ministry of Health in cooperation with the Ministry of Agriculture and Forestry to celebrate the 13th World Rabies Day – Sep 28 – and raise public awareness of rabies prevention.
"Between 2012 and 2019, 29 people in the Lao PDR died after being bitten by dogs. Many of them were children. They died of a disease called rabies," said Deputy Minister of Health Phouthone Meuangpak.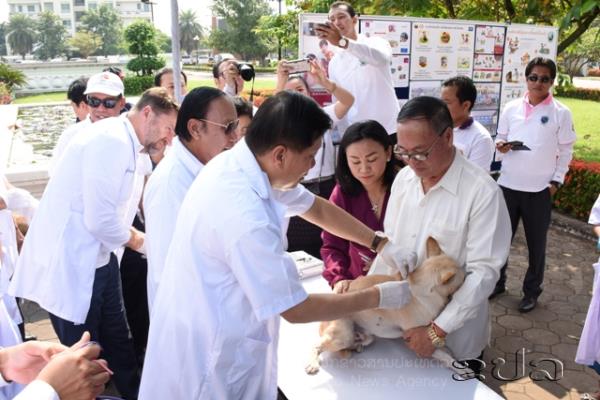 "If you are a dog owner, there is something more you can and should do. It will protect your dog, your family and everyone in your community. Get your dog vaccinated against rabies," said Dr Mark Andrew Jacobs, WHO Representative to Laos.
Laos is among seven countries in the Western Pacific Region that is identified as high risk for rabies. The other six are Brunei Darussalam, Cambodia, China, Mongolia, the Philippines and Vietnam.
Globally, an estimated 59,000 people die from rabies each year. That's one person every nine minutes of every day, 40% of whom are children living in Asia and Africa. As dog bites cause almost all human cases.
In 2015, the world called for action by setting a goal of zero human dog-mediated rabies deaths by 2030, worldwide.
Four organizations – the World Health Organizaton (WHO), the World Organisation for Animal Health (OIE), the Food and Agriculture Organization of the United Nations (FAO) and the Global Alliance for Rabies Control (GARC) – have joined forces, as the United Against Rabies collaboration, and are determined to reach this goal.
KPL