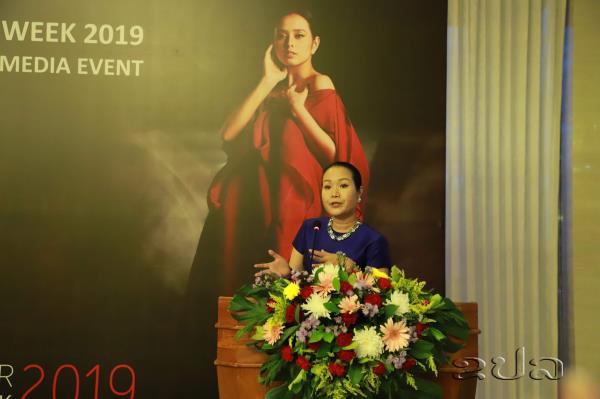 (KPL) More than 30 well-known International designers  will take part in the Lao Fashion Week 2019 in Vientiane Capital, according to Ms Pany Saignavong Founder – CEO Lao Fashion Week and Lao Young Designers Projec. 
Lao Fashion Week 2019 will take place from 2-6 September at the Landmark Mekong Riverside Hotel with more than 50 fashion designers participating, Ms Pany told a  Press conference in Vientiane on June 6.
"Celebrating its 6th Anniversary this year, Lao Fashion Week, no doubt is known as the most important and most prestigious international fashion event in Laos, which has created professional platforms for Lao fashion designers to meet and establish networks with well known designers from the international stage," said Ms Pany Saignavong.
With strong partnership with many international fashion platforms, Lao Fashion Week has brought prominent designers from Laos to many international fashion events and has put Laos onto the international fashion map. 
This festive fashion week will also feature Designers Pop-Up Store featuring products and collections from participating designers on sales to public where 20% of the revenue will be donated to Lao Young Designers Project.
There will also be workshop on various subjects regarding fashion by well known guest speakers open to general public. 
Lao Fashion Week is not just about glamours and fame, in respect to our origin of homegrowing in a developing nation, Lao Fashion Week has launched humanitarian programmes including the 'Fashion for a Good Cause' and 'Fashion for All'. 
The two humanitarian programmes are to work and collaborate with people with disabilities under vocational trainings of various organisations including Asian Development for Disabled Persons, Lao Disabled Women's Development Centre, and more… to reassure them of their talents, capabilities, social acceptance and independence.
KPL