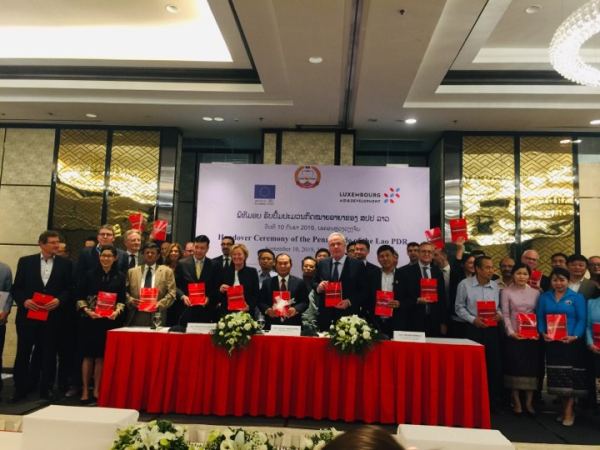 (KPL) Minister of Justice Xaysi Santivong officially presented the first enacted Lao Penal Code together with European Commissioner for International Cooperation and Development Neven Mimica and Luxembourg Minister of Development Cooperation and Humanitarian Affairs Paulette Lenert on Sep 10.
The event was hosted by the government of the Lao PDR and took place during the official visit to the Lao PDR by the European Commissioner and the Luxembourg's Minister. It saw the participation of over 100 people from the government, the National Assembly, State authorities, development partners and civil society.
The ceremony marked the publication of the first Penal Code of the Lao PDR, which was adopted by the National Assembly In May 2017 and took effect on November 2018 after several years of intensive technical working meetings and consultations.
At the ceremony, the commissioner commended the Lao government for taking this significant step forward for the Rule of Law. He praised it as an important moment for the Lao legal system, as well as for the country as a whole.
He also stressed that new efforts are needed to further improve and align the provisions of the Penal Code to international standards and human rights, while ensuring its wide dissemination and enforcement throughout the country.
Minister Lenert congratulated the Lao government and reaffirmed Luxembourg's long standing commitment to support good governance and well-functioning institutions in Laos noting that Luxembourg development cooperation, via Lux Development and ILSTA, has been active in the legal sector in Laos for over 10 years.
She also underlined that crime can't be solely addressed through a repressive angle, by sentencing and punishing people as foreseen in the Penal Code. To combat crime, education and crime prevention are equally crucial.
The code is planned to be disseminated across the country with an aim to further support Rule of Law and access to justice. It is also intended to make it easier for the relevant authorities, such as investigative officials, prosecutors and judges, to refer to and enforce and the relevant laws, according to the Director General of Law Dissemination Department, Ministry of Justice, Mr Bounlome Douangmala.
KPL