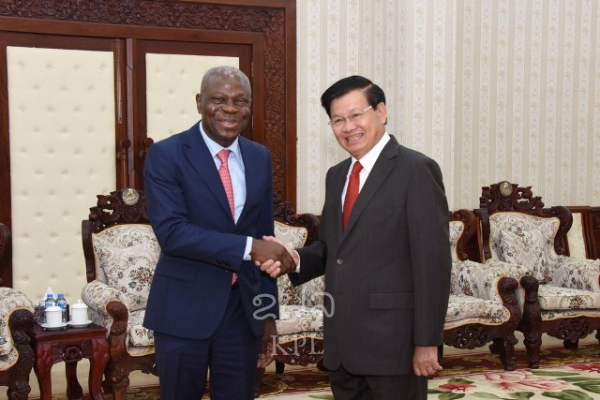 (KPL) Prime Minister Thongloun Sisoulith received in Vientiane on Jul 25 a courtesy call from the President of the International Fund for Agricultural Development Gilbert F. Houngbo.
IFAD President and his delegation are on a working visit to Laos between Jul 22 and 25.
Prime Minister Thongloun Sisoulith highly valued the visit to Laos by Mr Gilbert F. Houngbo and his delegation as a contribution to strengthening the cooperation between the Lao PDR and IFAD especially on rural development, food security, and sustainable land and natural resource management. 
Prior to meeting with the Prime Minister, IFAD President met Foreign Minister Saleumxay Kommasith, Deputy Prime Minister and Minister of Finance Somdy Douangdy, Minister of Agriculture and Forestry Lien Thikeo, Minister of Planning and Investment Souphanh Keomany and representatives of development partners.
Mr Gilbert F. Houngbo focused his discussion with the local officials and development partners on investments into improving food security and nutrition, employment and the mitigation of climate change impacts in rural areas where the majority of small scale farmers practice subsistence agriculture, lack access to irrigation and good transport infrastructure.
Mr Gilbert also visited a strategic project on food security and nutrition promotion in Xieng Khuang and met its governor Bounton Chanthaphone and senior officials of Kham district to learn about the livelihoods of local people affected by the development project and the challenges they are facing.
Since 1978 the cooperation between Lao PDR and IFAD has been mainly based on the national socio-economic development plan of the Lao PDR.
Since 1980, the assistance from IFAD to the Lao PDR has been estimated at US$ 148 million.
KPL