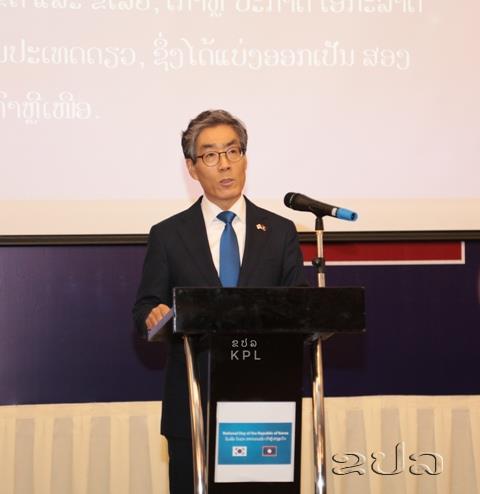 (KPL) Ambassador of the Republic of Korea to the Lao PDR, Mr Shin Sung Soon hosted a reception party to mark the National Day of the Republic of Korea in Vientiane Capital on Oct 3.
Minister of Health Bounkong Syhavong, Deputy Minister of Foreign Affairs Thongphan Savanphet, representatives of diplomatic corps and relevant officials attended the event.
"Today's event is to celebrate Korea's National Foundation Day. It marks the date when we believe our ancestors first built the Korean State in 2333 BC. We call this day 'Gae-chun-jeol', meaning the day when heaven open, which teaches the importance of benefiting all humanity. Koreans share the benefit that the state is meant to benefit humans. It is in this spirit that we are celebrating this day with a great sense of appreciation," said Ambassador Shin Sung Soon.
Korea was liberated from the colonial rule in 1945, but the country chose to celebrate somewhat mythical National Foundation Day instead of the Independence Day.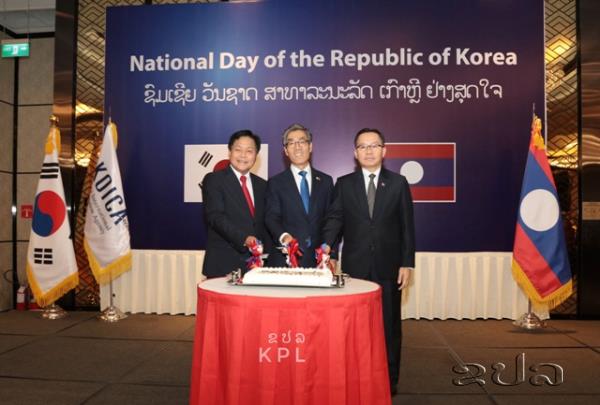 "The reason is that the Korean independence was a mixed blessing, Korea became impendence not as one nation, but was divided into parts – South Korea and North Korea," said the ambassador.
"Just five years after its independence, this division caused the tragic Korean War. And to this day, the reunification of Koreans remains as a long-awaited task for us," said the ambassador.
He said that Koreans never forgot what has brought them to the present stage and would like to give back in turn what they received from the international community, adding that the Korean people are eager to share the wisdom they have gained, and share the lessons they learned with friends around the world.
As a part of endeavors to give back, the Korean government started a project named "Lee-wook Fellowship" in 2010 and has invited 840 medical staff from 29 countries so far. Through this Programme, doctors from many developing countries have received medical training in Korea. Among the 29 countries, the Lao PDR ranks as the largest beneficiary country with 159 medical staff having completed their training Programme up to one year.
Last months, President Moon Jae-in visited Vientiane. This marked the first State visit to the Lao PDR by a Korean President. With the strongest-ever partnership, President Bounnhang and President Moon reaffirmed their commitment to cooperate with each other, at both bilateral and ASEAN multilateral levels.
In November, the ROK-ASEAN Commemorative Summit will be held in Korea, to celebrate the 30 years of close ties of their friendship. Prime Minister Thongloun will attend this Summit and discuss ways to strengthen the bilateral ties and follow – up on the previous agreements with President Moon.
KPL