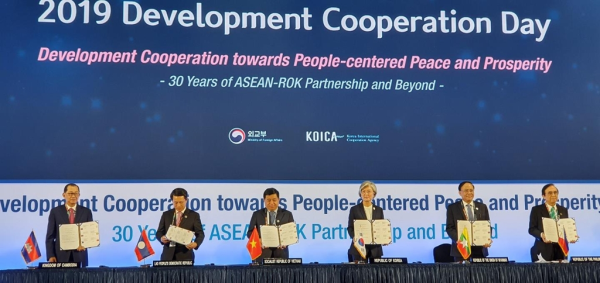 Lao Foreign Minister Saleumxay Kommasith (2nd from L) and senior government officials of Cambodia,Myanmar, South Korea, the Philippines and Vietnam pose for photos after signing a memorandum of understanding on development cooperation on the margins of the ASEAN-Republic of Korea Commemorative Summit in Busan, 450 kilometers southeast of Seoul, on Nov. 25, 2019, in this photo provided by Seoul's foreign ministry.  (Yonhap)
BUSAN, Nov. 25 (Yonhap/KPL) — South Korea and five member states of the Association of Southeast Asian Nations (ASEAN) signed a memorandum of understanding (MOU) on Monday on boosting development cooperation in education, smart cities and other fields, Seoul's aid agency said.
The MOU, signed with Cambodia, Laos, Myanmar, the Philippines and Vietnam, aims to expand official development assistance (ODA) in the five countries under five flagship programmes designed by the Korea International Cooperation Agency (KOICA).
The signing took place on the margins of the special summit between leaders of South Korea and ASEAN partners being held in Busan to commemorate the 30th anniversary of their dialogue relations.
The programmes focus on forging digital partnerships for inclusive development, providing assistance for higher education and establishing smart cities and transportation, the aid agency said.
The programmes are designed based on the New Southern Policy, a key policy initiative pushed for by the Moon Jae-in government that seeks to deepen economic and other ties with ASEAN members and India.
During the ceremony, South Korean Foreign Minister Kang Kyung-wha emphasized the expansion of bilateral cooperation between Korea and ASEAN over the last three decades and expressed hope for continued cooperation in development to contribute to strengthening peace and prosperity in the region.
In response, Vietnam's Minister of Planning and Investment Nguyen Chi Dung said Korea has become a key reliable partner and a contributor to reducing the development gap in the ASEAN community, voicing hope for joint efforts to further boost friendship toward co-prosperity.
Over 300 participants, including senior government officials of South Korea and ASEAN, attended Monday's event.
By Kim Seung-yeon
KPL