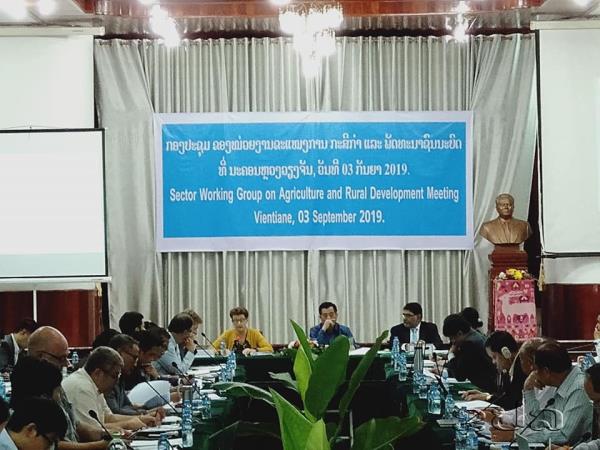 (KPL) The meeting of the Sector Working Group on Agriculture and Rural Development (SWG-ARD) was held on Sep 3 in Vientiane.
The meeting was co-chaired by Deputy Minister of Agriculture and Forestry Phouang Parisack Pravongviengkham, Ambassador of France to the Lao PDR Florence Jeanblanc-Risler, and Representative of the UN's Food and Agriculture Organization to the Lao PDR Nasar Hayat. 
The SWG-ARD supports the coordination and implementation of the National Socio-Economic Development Plan (NSEDP) and achievement of the SDGs relevant to the sector. 
The meeting took stock of the significant implementation of sector-related actions under the SWG-ARD and emerging issues such as the fall armyworm and the African Swine Fever in the Lao PDR. 
Participants also discussed the forthcoming agriculture census, which will contribute to the formulation of the next 5 – year agriculture and forestry development plan. 
"Policy and management responses to support small holders to tackle the imminent threats of biosecurity issues such as the fall armyworm and the African swine fever and to mitigate their negative impacts on rural livelihoods were urgently needed," said Dr. Phouang Parisack. 
"It is high time to transform agriculture from subsistence activity to the driver of economic growth and FAO stands ready to support the government and people of the Lao PDR in achieving this," said Ms. Florence Jeanblanc-Risler. 
Participants from various government departments including high-level steering committees, members of SWG-ARD, development partners, several representatives from Laos Farmer Networks and International Civil Society Organization, attended the meeting.  
The meeting provided an opportunity to the SWG-ARD secretariat and all stakeholders to report the significant implementation of sector-related actions as well as exchange ideas on conducting the agriculture census, which will be the basis for making informed and evidence-based decisions to address challenges related to food, agriculture, climate change and economic growth.