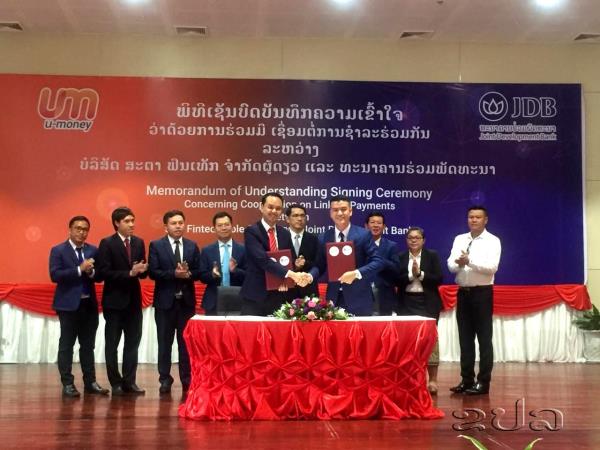 (KPL) Star Fintech Sole Co., Ltd and Joint Development Bank (JDB) have agreed to cooperate on linking payments.
A memorandum of understanding (MOU) on "Linking Payments" cooperation was signed by JDB Deputy Director Khamsou Yang, and Star Fintech Deputy Director Tran Minh Duc at the Head Office of Star Telecom in Vientiane Capital on Jun 29.
Representatives of Star Fintech, Star Telecom, Joint Development Bank, relevant departments and media practitioners witnessed the event.
The purpose of this partnership is to widen access to convenient, quick and safe banking services allowing customers using e-wallet of u-money to transfer money to their accounts at JDB and vice versa.
Star Fintech Sole Co., LTD under the trademark of u-money is a subsidiary of Star Telecom Co., Ltd. It has been authorized by the Bank of the Lao PDR to put in place e-wallet services for more than 3 million users of Star Telecom.
Star Fintech Sole Co., LTD under slogan "Mobile Bank of Lao People" will continue to cooperate with other partners to facilitate customers making transactions in the era of digital banking.
KPL