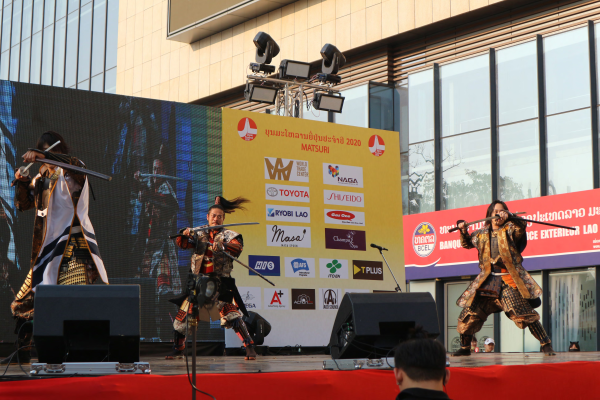 Japan Festival 2020 Fosters Friendships and Builds Momentum Amid 65th Anniversary of Japan-Laos Diplomatic Relations
–(KPL) Locals, residents and visitors to the capital of Laos numbering some 7,000 have been treated to the sights, sounds and tastes of Japan.
The Japan Festival 2020 "MATSURI" was held in Vientiane Capital from Jan 31- Feb 2 at the Lao capital's World Trade Center (Naga Mall).
The Festival opened with a welcome to Mr. Ponmek Dalaloy, Former-President of Lao-Japan Friendship Association, Mr. Khenthong Nuanthasing, Vice President of Foreign Affairs Committee, the President of the Lao-Japan Friendship Parliamentarian Group, National Assembly, representatives of the diplomatic corps, dignitaries and members of the public from Chargé d'Affaires ad interim of the Japanese Embassy to the Lao PDR, Mr. Iwamoto Keiichi.
Addressing the ceremony, Mr. Iwamoto stressed the recent achievements furthering friendly and cooperative relations between Japan and the Lao PDR.
"This year marks the 65th anniversary of the diplomatic relations between Japan and the Lao PDR," Mr. Iwamoto said.
"It is my sincere wish and hope that we will further strengthen our relations through this Japan Festival."
The cultural programme kicked off with an opening Friday-evening concert extravaganza. 
It brought to audiences in Laos the powerful beats of Shamisen (three-stringed Japanese guitar) by Keisho Ohno, a famous tsugaru shamisen player with an innovative style by mixing traditional, folkloric and modern tunes.
The concert warmed up as famous local singers Alexandra and TarApacts and the energetic Japanese dance group Mortal Combat joined on stage and performed a music and artistic dance collaboration.
Japanese and Lao artists received extensive applause from the large audience gathered.
In anticipation of the Tokyo 2020 Olympic and Paralympic Games, Lao Paralympic athletes including Asian Paragames Gold Medalist Mr. Pia Laophakdee gave a demonstration of powerlifting in collaboration with ADDP (Japanese NGO) and Beppu-city, a host town of the Lao Paralympic team, which locates in Oita prefecture of Kyushu, southern island of Japan.
Attracting the hearts of the whole family and particularly the kids, Kumamoto prefecture team from Kyushu, presented "Kumamon" (the mascot and representative character of the prefecture) and Kumamoto Castle's Omotenashi Bushotai (a hospitality team in the costume of warriors and warlords of Kumamoto Castle) dramatic performance.
Meanwhile, a Japanese Songs Singing Contest saw eight Lao finalists working their voices and competing for prizes and personal achievement in front of a large audience.
Passionate, emotion-driven performances by local musical artists Lao Navy, Black Eyes, Alita and Lao "cosplayers" also livened up the crowds gathered at the event.
Other highlights included presentations of music, and dance performed and curated by JICA volunteers to the Lao PDR.
Japan Festival 2020 was organized by Japan Festival Organizing Committee consisting of representatives of the Association of Japanese Residents in the Lao PDR, Japan Foundation Asia Center Vientiane Office, Japan Alumni Organization Laos (JAOL), Japanese Chamber of Commerce and Industry, JETRO Vientiane, JICA Laos Office, Japanese Human Resource Institute (LJI) and Embassy of Japan in the Lao PDR.
KPL