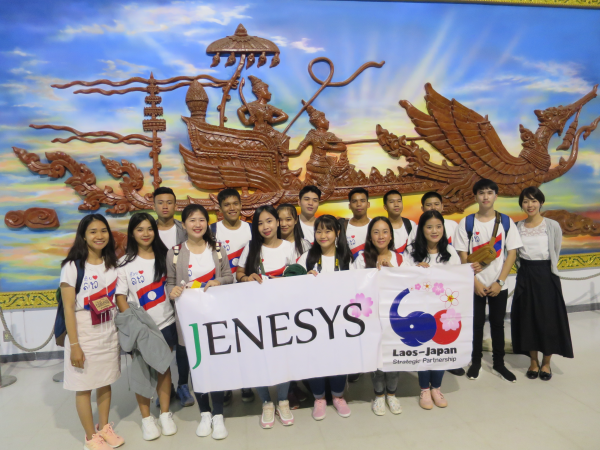 Group photo session of JENESYS fellows prior to their departure for Japan at Wattay International Airport, Vientiane Capital, Lao PDR, Sep 12, 2019
(KPL) On Sep 12, twelve high school students, two Lao government officials and one official from the Lao Rugby Federation departed from Wattay International Airport for Japan to participate in the Youth Rugby Exchange under the framework of JENESYS 2019, which is supported by the Japanese Government.
They will stay in Japan from 13 to 21 September 2019.
The rugby exchange aims at deepening mutual trust and understanding among the young people of Japan and ASEAN countries to build a basis for future friendship and cooperation.
This programme has a further objective that is to attract the attention of the people of ASEAN countries to the 9th Rugby World Cup to be held in Japan from 20 September to 2 November 2019, the first Rugby World Cuptournament which will be held in Asia.
The twelve Lao students were nominated by the Ministry of Education and Sports in collaboration with the Lao Rugby Federation from outstanding students who are enthusiastic about sports.
These students, together with students from other ASEAN countries, will attend a joint practice of"Tag Rugby" (a rugby for beginners) as well as an exchange of friendly matches.
Furthermore, they will have an opportunity to make a courtesy call on a representative of the Ministry of Foreign Affairs, while watching the opening game of the historic Rugby World Cup in Japan.
JENESYS is a people-to-people exchange programme between Japan and the Asia-Pacific region, with its history dating from 2007.
The Japanese Government will invite more than 100 young Lao people to visit Japan during this fiscal year.
KPL