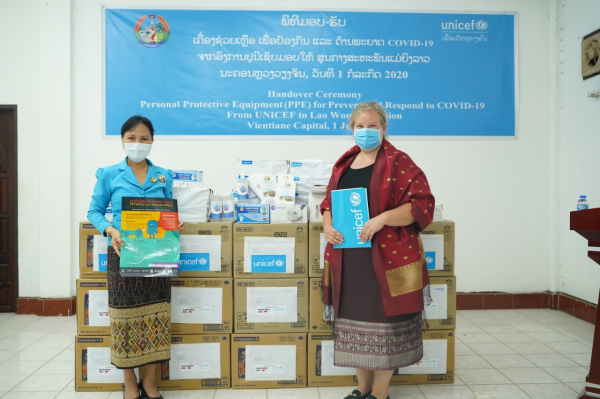 (KPL) On the 1st and 2ndJuly 2020, UNICEF Lao PDR handed over personal protective equipment (PPE) worth US$30,000 to the Lao Women's Union (LWU) and the Ministry of Labour and Social Welfare (MOLSW) respectively.
The PPE will be distributed to MOLSW and LWU staff working in the area of child protection at national, provincial and district levels in 12 provinces and Vientiane Capital.
Additional beneficiaries include staff and caregivers in nine long-term care facilities for children without parental care and two LWU Centres for Protection and Assistance for Women and Children in Vientiane Capital and Luang Namtha Province.
Procured with the generous support from the UNICEF National Committee for Australia and other donors, the PPE support includes 46,400 surgical masks, 46,200 gloves, 236 thermometers and 940 hand sanitizers.
"UNICEF is one of the Government of the Lao PDR's long-term partners. With these supplies, the social welfare workforce will feel safe to conduct home visits, identify vulnerable children, victims and provide them with essential child protection services," said Vice Minister of Labour and Social Welfare Baykham Khattiya.
"UNICEF is the first and time-tested supporter of the LWU Protection Centres for Women and Children since the establishment of the center in 2005, which provide counselling, mental health psychosocial support, legal aid, shelter and referral services for women and children victims of violence and human trafficking. Since the outbreak of COVID-19, the LWU shelter has provided services to 146 women and children to reduce anxiety and make them feel safe during their stay in the shelter," said President of the Lao Women's Union Inlavanh Keobounphanh.
The COVID-19 pandemic has impacted many aspects of life for children in the Lao PDR. The confinement, COVID-19 related school closures and limited availability of social services on the ground caused children and families increased stress and rises in domestic violence and other risks, such as child marriage and online protection.
"Social workers are a lifeline for children who suffer from violence and other child protection issues," says Ms. Beate Dastel, Representative a.i. of UNICEF Lao PDR. "They are critical to identifying risks, facilitating access to protection services and ensuring that children are protected from violence, exploitation, neglect and abuse. UNICEF is working closely with the Government of the Lao PDR and its partners to provide the support and protection social workers need and deserve, to continue their work and services for vulnerable children in the face of COVID-19," adds Ms. Dastel.
UNICEF is calling on governments to designate social service workers as essential service providers in the COVID-19 response, and to provide them adequate funding for salaries, supportive technology, protective gear and training.
KPL