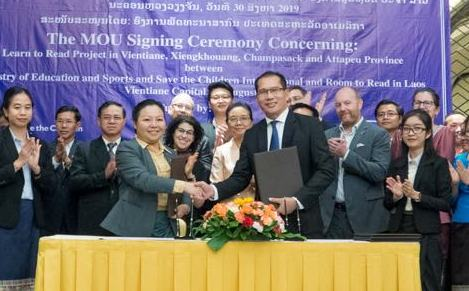 From center leftto right: Room to Read Country Director Norkham Souphanouvong, U.S. Ambassador to the Lao PDR Rena Bitter, Minister of Education and Sports Sengdeuane Lachanthaboune, and Deputy Director Generalof the External Relations Mr. Phouvanh Vongsouthi officially launch the Learn to Read project in Vientiane on Aug 30, 2019
(KPL) The United States continues its broad support for education and opportunity in Laos.  On Aug 30, the U.S. Embassy formally launched a new basic education programme in Laos with the signing of two memorandaof understanding (MOUs) to officially begin a five-year "Learn to Read" programme. 
The MOUs between the Ministry of Education and Sports and implementing partners Save the Children and Room to Read mark the beginning of implementation for this important new programme that is funded by the United States through the U.S. Agency for International Development (USAID).
U.S. Ambassador to the Lao PDR Rena Bitter and Minister of Education and Sports Sengdeuane Lachanthaboune witnessed the MOU signing ceremony.
"Today's launch of Learn to Read marks a new chapter in the partnership between the United States and the Lao PDR on education," said Ambassador Bitter. "We are proud to support the Lao government as it works to improve reading outcomes, and we continue to expand our commitment to a strong, prosperous, and independent Laos by directly supporting the educational aspirations of Lao youth."
The Learn to Read programme complements efforts of the government of Laos to improve reading skills for children from the pre-primary level through second grade, and it is implemented by Save the Children International, Room to Read, and Humanity & Inclusion. It focuses on improving classroom instruction by providing teaching and learning materials, enhancing teacher competencies through training and classroom support, and strengthening community engagement in helping children learn to read. 
Together, these activities will help improve the quality of basic education in the Lao PDR, with a special focus on children who do not speak Lao at home, and children with disabilities.
The programme will be implemented in all pre-primary, first-, and second-grade classrooms at public schools in 16 target districts in Xieng Khuang, Vientiane, Champassak, and Attapeu Provinces. Over 65,000 children are expected to benefit from the Learn to Read programme.
The United States works in partnership with the government and people of the Lao PDR to improve education, promote health and nutrition, facilitate trade and investment, and strengthen the rule of law.
KPL